Great British Bake Off: The Frenchay Connection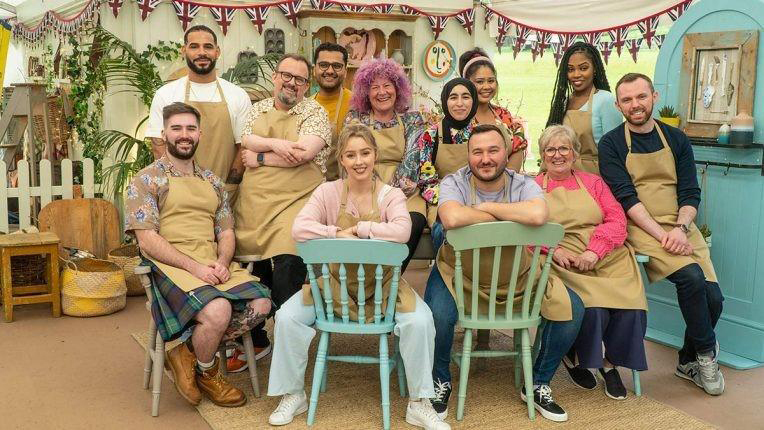 The recent TV series of Great British Bake Off featured, as one of its twelve contestants, Will Hawkins, who grew up in Frenchay, and whose parents still live in the village. Here he gives a short account of the experience:
Until that day in November 2021, I had only ever entered one baking competition before and that was the Victoria Sponge category in the 1987 Fromeside Festival. As a pupil in year 6 at Frenchay C of E School, a choirboy at Frenchay Church and member of First Frenchay Scouts I had entered loads of things in that year's Festival - drama, singing, art projects - as we competed with young people from Hambrook and Winterbourne in arts and culture - but that was my first go a baking. My memory is hazy as to what happened, I may have gained a consolation prize of 'highly commended', but I think my cake may have gone completely unrecognized.

And so, I found myself 34 years later, on my sofa in London, laptop on my knee poised to enter my second baking competition - season 13 of the Great British Bake Off. I'm still not entirely sure why I entered Bake Off then, why, despite enjoying the show, enjoying baking, and having made some impressive things I had not entered before. It is true that, like many of us the Covid lockdowns had given me a chance to hone my skills, locked at home, working from my lounge and home schooling while navigating the shared crisis, baking was a release and creating something new was a coping strategy. I also think that longing for connection I started photographing the things I baked, buns, breads, and pastries that I was proud of, and I shared them on social media with friends, family, and colleagues. It was these photographs that found a new purpose illustrating and demonstrating my skills to the producers at Bake Off.

I did hesitate before submitting it. Writing the application had been therapeutic, I had to think about why baking was important to me. I talked about how baking is an act of generosity and giving, a way to turn time and skill into something nice, something you can share with others. I talked about the relationship between baking and mental health. I talked about how I don't really like making cake. But then I clicked it, my application was submitted.

Unfortunately, I am honour bound to protect the mystique surrounding how someone is selected for the Great British Bake Off and how the programme gets made – if you are really interested there are plenty of stories to be found online, and I can say at least some of it is true. But my journey started very soon after I clicked that button, it involved many stages, was very rigorous and focused on standards of baking and why you baked. But somehow through all of that I found myself in early summer of 2022 in a hotel with 11 strangers who had been whittled down from the 13,000 applicants to be a contestant.

If you watched Bake Off last autumn you will know my Italian Meringue Buttercream came a cropper in the very first challenge (it was so cold in the tent that day the butter curdled – twice), my fate was sealed, and I was the first to leave the tent.

Whilst this was obviously a bit disappointing, I am not sad about it – it was, and still is, an amazing journey. It is lovely to be involved with such a contemporary institution as the Great British Bake Off and to see the power of baking as a positive force to connect people from such different backgrounds and with such different perspectives. And I have 11 fantastic new friends.

I realise the Fromeside Festival no longer happens, but I was at one of its successors, the Frenchay Flower Show in the summer when I came to visit my parents and I enjoyed the displays of baking, growing and art excellence in the tent. Whilst this might seem a world away from the Great British Bake Off, it really is not.

Keep baking Frenchay, next time you'll raise a winner!
Will Hawkins
See also Will's recipe this month – Granny's ginger nuts