Frenchay Artist helps to get local High Streets Buzzing again!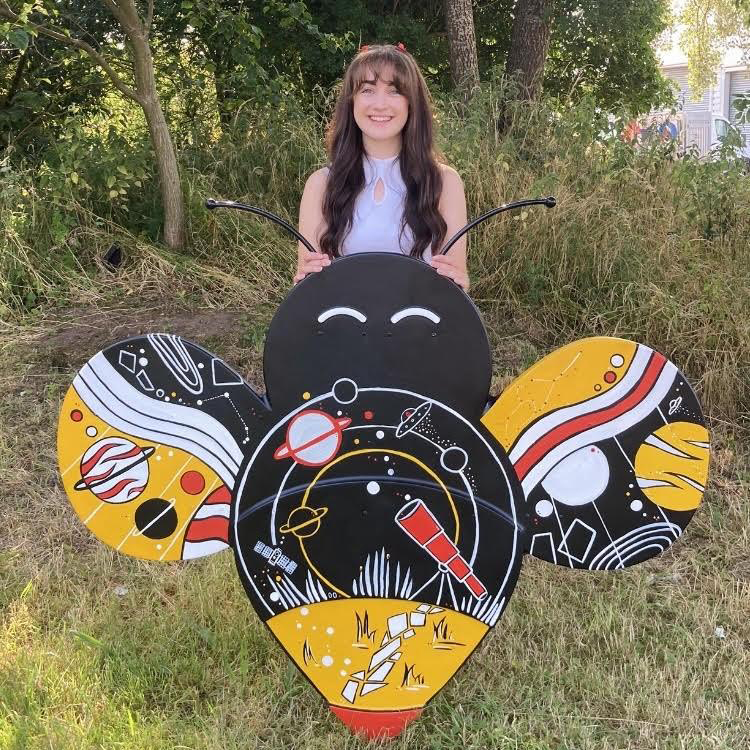 A young artist from Frenchay was one of the designers selected by South Gloucestershire Council to promote local High Street businesses through the 'Bee Trail Challenge'. Sixteen fibreglass bees have been placed around eight 'High Street' shopping areas in South Gloucestershire, including at Downend and Staple Hill, each bee individually designed with an artistic theme. Emma Beavis created her 'Astronobee', inspired by space and the world of the unknown, and the artist and her creation are shown in the photograph alongside, although it would need a colour version to do justice to this imaginative design..
Better still, locate the original, not just of this one but also as many of the others as you choose to track down while you indulge in a bit of retail therapy, and put yourself in with a chance of winning a weekly draw for £150 vouchers to spend with local Independent traders. To enter the draw, you have to take a 'selfie' on your mobile device of each of the two bees in your chosen shopping area and upload them with your name and contact details. The full workings of the Bee Trail Challenge, including maps of each of the bee locations, information on the artists, and a full list of traders taking part, can be found at: www.southglos.gov.uk/shopsouthglos.
The Bee Trail Challenge runs to the 18th September, and later the individual bees will be auctioned for charity at an event to be hosted by the Chair of the Council.
Emma lives at her family home at Riverwood, Frenchay, having completed her degree course of BA (Hons.) Illustration at the University of Plymouth in July of this year. Her earlier education started at Bromley Heath Primary School, followed by what was then the Ridings at Winterbourne, and on to SGS at Filton where she did an Extended Diploma and Foundation Course in Art and Design. From her very early years, she had a love of drawing that she has developed most impressively..
Even more prestigious that her selection by South Glos Council for this present project was winning through a competitive process to provide the artwork used for merchandise produced for a major international sailing event hosted at Plymouth in July of this year, the Great Britain Sail Grand Prix. The design shown here fulfilled the brief to celebrate the Ocean and all that it represents.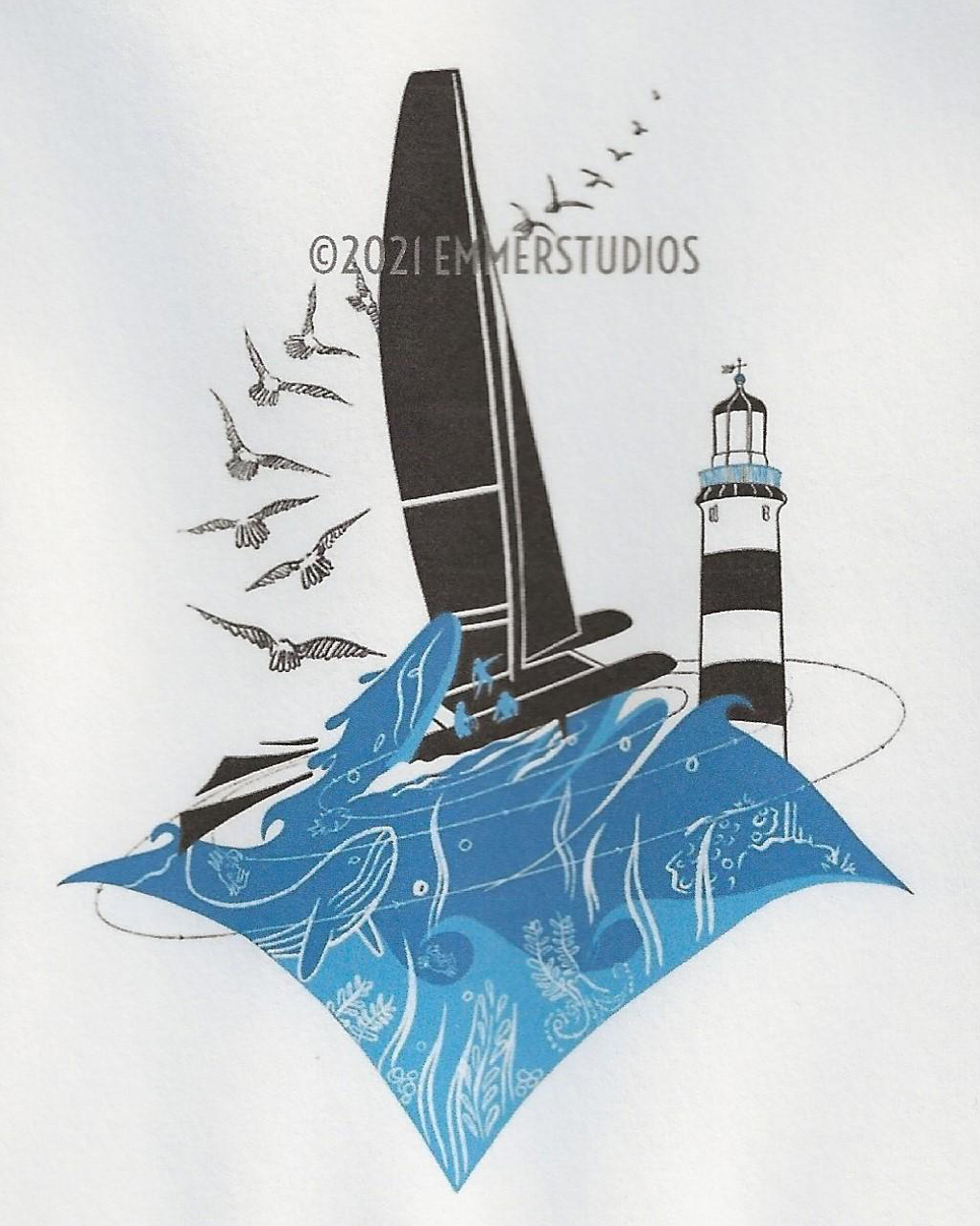 Emma herself explained:
"I wanted to convey motion by creating a flowing focal point with seagulls guiding you towards Smeaton's Tower where the boat is heading. The biodiversity of the sea is captured through delicate illustrations of marine life as they push the boat through the water, surrounded by oxygenating sea-grass and powerful waves."
The distinguished Panel of Judges felt that she achieved those objectives, and were particularly impressed with how, in a static image, she conveyed the motion of all the elements in the representation. The Chair of the Judges commented: "Emma has captured the spirit of competition as well as subtly including the 'action' below the waves."
To appreciate better not only this work but also a wide range of skills and creativity, visit her website which promotes her as an aspiring freelance illustrator, ready to take on projects that give scope to her varied skills. She applies digital technologies to her core artistry to produce short animations in several forms. She also has the musical skills to compose and play musical accompaniments to her work. The site to find is emmerstudios.com, and readers are likely to enjoy in particular the Animations section. Generally, she is looking to appeal best to her own younger generation, but whatever your age, you will find plenty to admire in these samples of her work.
Emma's attitude to her art is often a playful one, and this also manifests itself in the website name, where 'Emma' is corrupted to a West Country 'Emmer', originally deriving from how her Bristolian grandfather always addressed her, and now it is fondly recognised in her public profile. Emma is all the more proud of her Bristolian roots on account of its success in the world of animation and creative arts, and the chances are, that in the course of time, she will only add to that..