Re-launch of Frenchay Probus Club and Open Invitation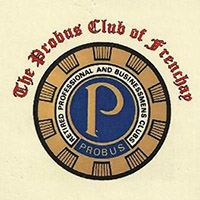 After a period of some 18 months or so when the members of the Club have been unable to meet together, there is to be a re-launch and open invitation for people to attend an
Open Meeting on Wednesday October 6th, 10.15 a.m. at Frenchay Village Hall
Probus Clubs are an opportunity for men who have retired from business or professional life, but wish to meet socially with others in a similar position. Probus Clubs arrange for visiting speakers to give talks on a wide variety of subjects, as well as holding social events and occasional outings.
Based at our Village Hall, our local Probus Club has been running successfully for over 40 years but needs to recruit new members, particularly from the more recently-retired. There are existing members content to continue organising a programme of activities, but more members are needed to keep it viable.
An open event is planned for Wednesday October 6th between 10:15am and 11.15am at Frenchay Village Hall to provide the opportunity to meet current members, and to find out more about the Club.
As a spokesman for the Club explains about the open day:
"Just drop in! You will be warmly welcomed, and refreshments will be available.

"We meet normally at 10:00 am until 12.00 on the first Wednesday of each month, and there is period at the start of the meeting for coffee and chatting…

"The main part of our meetings features a wide range of talks. In the past they have included the "Dambusters Raid" (given by Johnny Johnson, the last British surviving member of the raid). And a notable talk was an update on Britain's 1,000 mph car, particularly interesting to our local engineers. We have local history topics, and presentations given by experts in their field, including a cardiologist from Bath, a professional rugby referee, a Wimbledon Lineswoman, a psychiatrist (talk on mental health), and even one from South Glos. Council on waste recycling and disposal. And coming up in November is a talk on the History of Bristol (Bears) Rugby Club.

"It's never too late to learn, discuss and ask questions about subjects you never thought you would come across or be interested in.

"We also have occasional meetings when partners and wives are invited. Away trips have included the Police Headquarters at Portishead, behind the scenes at The Hippodrome, the Royal Mint, a whiskey distillery in Wales, the Curzon Cinema at Clevedon, and the Concorde exhibition at Filton, and a ride on the Fire Boat in Bristol harbour.

"Our Lunches in summer and in the Christmas season are always popular. There are also plans to meet together for occasional breakfasts at Shaftsbury Park in Frenchay."
So book the date: Wednesday October 6th 10.15am to 11.15am
​It would be helpful, but not essential, to e-mail your interest in attending, to: frenchayprobus@outlook.com