Business and Professional Women (UK) appoints new president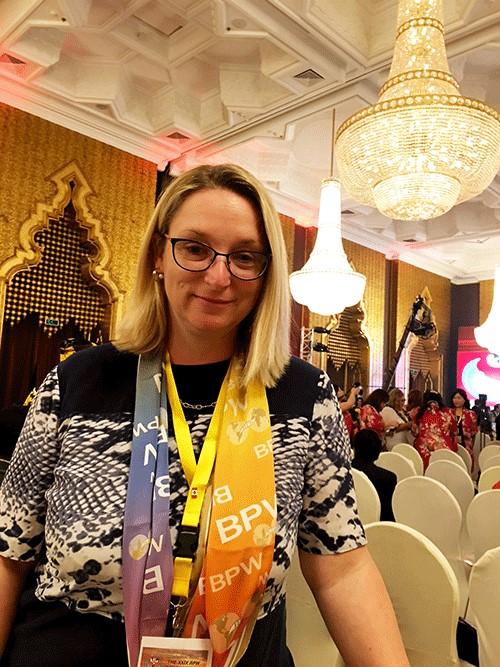 Business and Professional Women ('BPW') is an international organisation set up to promote women's equality and achievement in business, professional and public life. It was started in 1938, and has national groups in over 100 countries, lobbying at its highest level in the UN, the European Parliament, in national governments, and elsewhere. Its agenda certainly has a forceful momentum at present worldwide, and it aspires to accelerate its influence towards these objectives.
So why is it featured particularly in FCN?
The answer lies in the fact that not only has a woman from Frenchay, Jo Kinsey, pictured above, recently been elected as the new National President of BPW UK, but also on account of the previous leadership positions held by another local woman with strong Frenchay connections, as referred to further below.
Jo and her team plan to put the spotlight on current issues needing attention and action, including education, employment, all areas of health, gender-based violence, and sustainable development. Representations have recently been submitted for the pending COP26 UN Climate Change Conference.
Jo said:
"I strongly believe that BPW UK still has a great deal of work to do in ensuring true equality for all women. Please come and join us as we try to ensure that the British and all governments worldwide 'build back better' with true equality of opportunity and sustainable economic and social justice at the heart of all their policies."
For more information on the organisation itself and how to go about exploring whether or not you might want to get involved personally, please visit the website: www.bpwuk.co.uk or email to express your interest to: hq@bpwuk.org.uk
Jo Kinsey is the second Bristol member to take the lead in BPW, the National President in 1989 - 91 being Sylvia Perry from Downend who later went on to be elected the BPW European Coordinator and finally the International President.
In her 50 year membership, Sylvia has undertaken many roles, authored books and been honoured with the organisation's two highest awards, and she still makes a valuable contribution locally, nationally, and internationally. She is also a very well known figure in Frenchay, as a long-time member of Frenchay Parish Church, including several years as a very energetic Churchwarden. She also still serves as a Trustee for Arab International Women's Forum, and for BRACE Alzheimers.