Downend & Frenchay Tennis Club News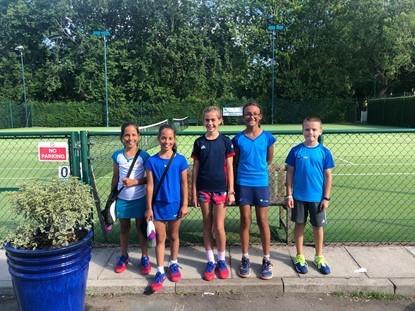 End of Year Roll of Honour of the Achievements of Junior Players at DFTC
The youngsters mentioned below (and just a few of whom are shown in the photo above) started their tennis careers at Downend & Frenchay Tennis Club. They have learned to play in various age groups and been able to compete in competitions suited to their ability. There are many more who enjoy learning the skills which they can continue using for life.
Maria Budin - Currently on a Full Scholarship at Rice University in Texas USA, with their Division 1 Team.
Kiera Gunning - Currently on a partial Scholarship at Averett University USA with their Division 3 team.
George King - George is currently working hard within the competition circuit achieving great results with the aim of gaining a Tennis Scholarship at a USA University in the near future.
The following players were selected to represent Avon within Their County Performance Teams:
Ben Brown, Dominic Foley, Arthur King, Tom Bewley, Kadie Robinson, Poppy Rickwood - County Performance Squad, playing both National and Regional Level Competitions. Kadie was recently selected for the qualifying draw at the Tennis Europe Singles Tournament and qualified for the main draw in the Doubles Tournament.

Jamie Salmon, Maya Glanvill, Sofia Anderson - County Performance Squad, and also playing at Regional Level Competitions.

Florence Butel, Isabella Butel - County Performance Squad.
New for 2021 Avon Tennis Performance introduced a new Under 8 category which the following played were selected for:
James Dick, Thomas Glanvill - County Performance Squad
Comments from parents of juniors:
Poppy Rickwood started playing tennis at DFTC when she was 6 years old. Her potential was spotted by Pete Caseley at an after-school club. We were invited to DFTC for some tasters and joined soon after. Poppy was a natural, and under the performance coaching of Head Coach, Andy Hutton, Poppy's tennis has gone from strength the strength - seeing her regularly compete in junior league, regional and national tournaments, as well as play for the county. Now 16 years old, Poppy continues to play to a high standard and very much enjoys her tennis. Enjoyment has always been our no.1 focus - but she still loves to win! It's fantastic to see her play and we're so proud of what she has achieved. Go Poppy!

Samantha Rickwood
Dominic Foley started this tennis journey at the age of 6 and in 2018 he joined DFTC playing orange ball tennis through to yellow ball and been selected to play in numerous league fixtures for his club. Dominic has made great progress through the years, being selected for the U10, U11 and currently in the U14 Boys Avon County Performance Training Squad. He was also chosen to represent Avon in the 2020 County Cup for the Avon U11 Boys team. Dominic has enjoyed many successes, with his most memorable being the winner of the U11 Boys Singles Avon County Championships in 2020. He continues to train hard, develop his skills and enjoy his tennis!

Chantel Foley
Tom & Jack Bewley: My two sons joined Downend and Frenchay tennis club in the spring of 2015. It was clear from the start that there was a positive atmosphere at the club with great coaches. Both boys still attend the club regularly for different reasons, Jack plays tennis in a group session on Tuesday's and has also started playing independently with another club player. Tom like Jack took to tennis well but wanted it to be his main sport so had individual lessons. Pete and Andy have given Tom the best support and coaching over the years which has enabled Tom to captain Avon and then play regional, then move on to Nationals, including the finals Roehampton National tennis centre. I'm sure both my sons will continue to play tennis as adults and get the social and health benefits which you get from a good club.

Nigel Bewley
Something to think about for the New Year? See also: www.downendandfrenchay.co.uk