Tony Monks – A Whistle-Blower's Story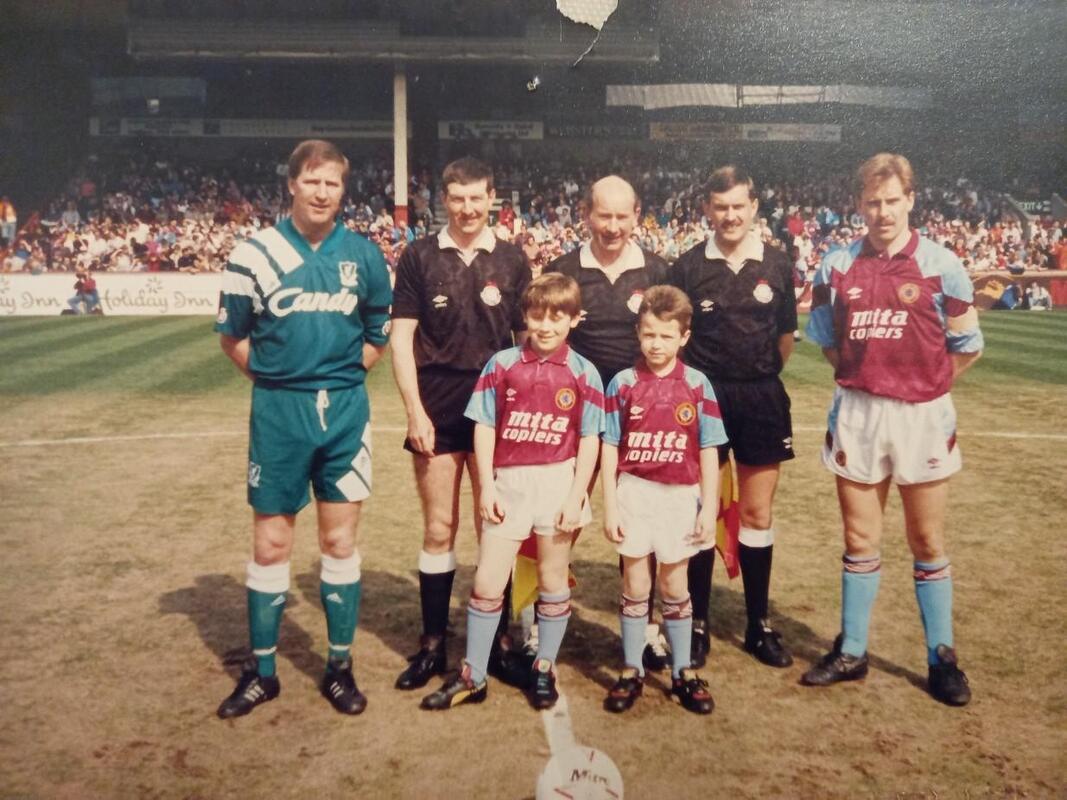 Tony Monks is a serial whistle-blower… If someone is not keeping to the laws, don't expect him to look away: he will be on to it, and wanting to bring it to everyone's attention. And even if he is just on the sidelines, if someone steps out of line, he will be the one to flag it up for all to see, even if it is not always the most popular thing to do.
That is how it is for someone who has been a high-level football referee and who has officiated at many of the best-known stadia in the country.. Tony retired as a referee after the 97 /98 season, and while he has had connections with the Greater Bristol area over a long period of time, he came to live in Frenchay over 9 years ago, and after 21 years down the road at Stapleton. He continued his association with refereeing after his retirement from the game by hosting visiting referees to the Memorial Stadium for Rovers' matches, until standing down from that arrangement at the end of last season.
Tony started off as a player in youth and adult football, playing in the Downs League and the Bristol District League, but an injury in 1981 led him to get involved with refereeing the following year, gradually working his way up the ladder, regularly being assessed on how well he was doing, and reaching Western League level in 1986. At each stage, he would become firstly a 'linesman' (colloquially often referred to as a 'Lino') and then progressing to take charge in the middle of the pitch. Later, the term 'linesman' was dropped in favour of the current term used, 'Assistant Referee', which better reflects their role in proceedings, but then, as now, the three officials (now supplemented by a 'fourth official' at the top levels), work very much together as a team..
Good performances in the Western League soon led to promotion to Football League status, which Tony achieved in1990, where he was appointed regularly as a linesman, also undertaking Western League games as the principal referee. Needless to say, that level of football requires high levels of fitness from the officials, and a regular part of the process is to undergo very demanding fitness assessments.
Another important ingredient is to have a flexible and sympathetic employer, which Tony usefully had at the construction companies where he worked. Tony also found the skills learnt from managing workers on building sites helped in controlling and managing discipline on the football field, and vice versa. Equally important was to have a supportive and understanding wife ready to cover on family and other duties at many times during the season, and Tony is very ready to acknowledge his debt to his wife Lynne on that account.
Promotion to the Football League panel brought his first match at Swansea v Huddersfield at the old Vetch Field, and appointments at games in the former Third and 11 Fourth Divisions, supposedly limited to a 120 mile radius from home but which was often mutually stretched to take in many of the London grounds as might otherwise been beyond that limit.. The standard fee payable was £50 per match, plus travelling expenses. In his second season, there were appointments firstly at Second Division games, and then his initial First Division game at Aston Villa who were hosting Liverpool. Tony is shown second left in the picture (above), alongside Ronnie Whelan, the Liverpool captain and Irish International. The following season saw the introduction of The Premiership in place of the First Division, and Tony's appointments as linesman were regularly to places such as Chelsea, Tottenham, and Southampton, alternating these with games as the referee' 'in the middle' in the Western League.
The 94/95 season brought a trip to Venice for an Anglo-Italian Cup game, with St. Marks Square visible from the Stadium across the lagoon, and the following season, he returned to Italy in the same competition for a game at Ancona.
Among his most memorable matches were his first game at Ninian Park, then the home of Cardiff City and where for many years in his youth, he had stood on the terraces, and a game between Swindon and Manchester United, during which Eric Cantona was sent off (but not to be confused with the notorious Kung-Fu incident at Crystal Palace when the same player was dismissed in even more dramatic circumstances). The photograph below is of Tony (on the left), sporting his Premier League refereeing shirt, before the start of that match at Swindon.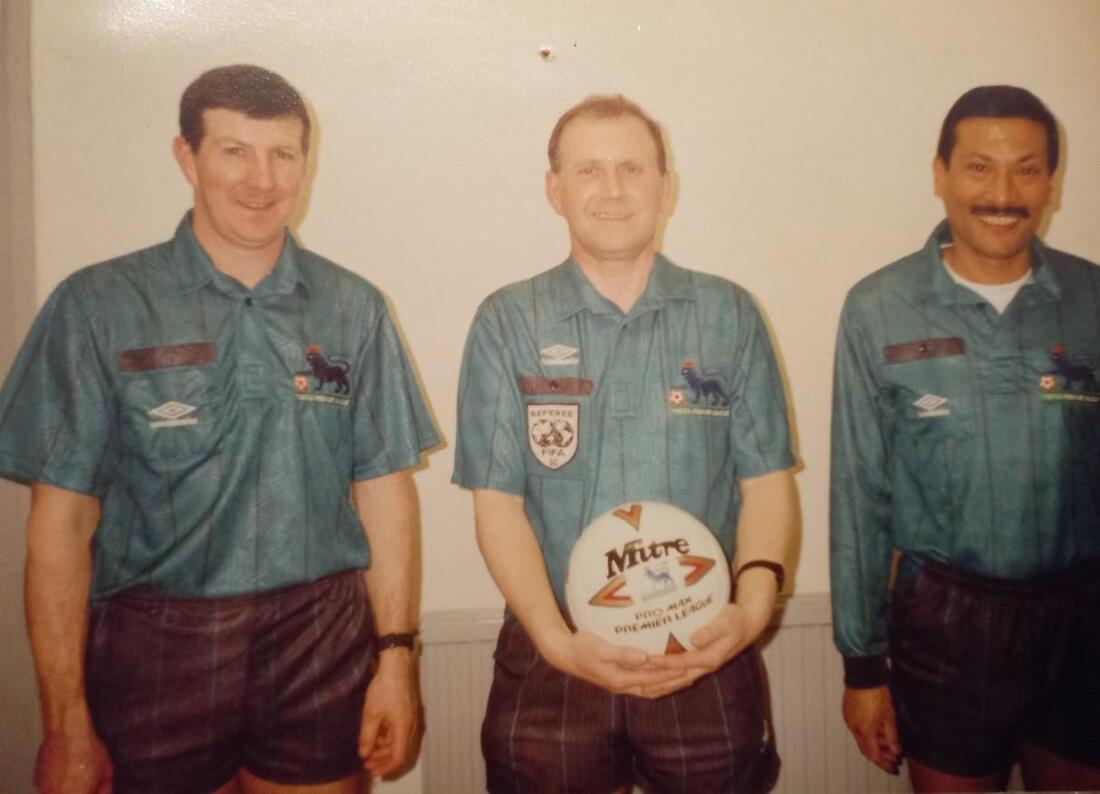 Tony continued at that level until 1996 when, essentially on account of age, he came off the Football League list, and the following season he came off the Western League list. On two occasions, he officiated at Bristol City v Bristol Rovers in Gloucestershire Cup Finals, a test of anyone's mettle.
As a linesman, operating very close to a bank of spectators, typically partisan and sometimes hostile, the key is focus and concentration on the job in hand, resisting totally any thought of engaging in a response. Whatever remarks come your way, you just have to smile to yourself and remain confident that you have done a good and honest job. Managers and players will often try and test you out with a comment, ready to exploit the situation if you were to show any sign of uncertainty. The mantra has to be: "Just smile; don't engage." You also have to show respect to the managers and players: and if that happens, they will respect you.
Tony has very mixed feelings about VAR, having served in an era which long preceded it and when they generally managed well enough without it. Certainly it brings greater accuracy, arguably in too precise a manner, and at the cost of the flow and spontaneity of the game.
Retirement as a referee led Tony to give his services to Bristol Rovers at the Memorial Stadium by acting as a host to visiting referees and to assist them before and after the match. He did this for 23 years, until the end of last season, when Covid and other factors brought the arrangement to an end.
Tony very much enjoyed his career as a referee, and to reach such a high level in the game gave a true and proper sense of achievement. It caused him to meet the likes of Alex Ferguson, Paul Gascoigne, and David Beckham, and it took him to places of which many would be envious.. And if you can handle footballers and their supporters with authority, you are well placed to manage many a situation in life.