Frederick Denison Maurice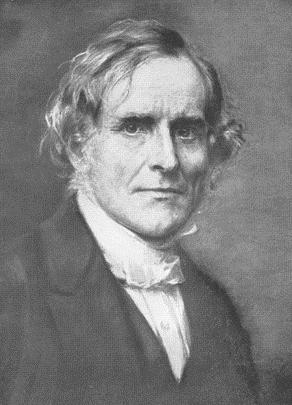 Never heard of him? Then read on… with this article from Frenchay Village Museum
April 1st marks the 150th anniversary of the death of Frederick Denison Maurice, Frenchay's most influential resident. He was born in 1805 in Lowestoft, then in 1813 his father (a Unitarian minister) was appointed minister of Frenchay Chapel. The family came to live in Clarendon House. Maurice's close childhood friend was a young Quaker, Francis Tuckett, who lived in Frenchay House.
In 1823 Maurice left Frenchay to go to Cambridge University. There he made many friends, and with John Sterling founded a discussion group that other students called "The Apostles". Today The Apostles is an important society in Cambridge. Another member was Alfred Tennyson, who becamea close friend. Maurice got a first class degree, however he was not awarded the degree, as he was not a member of the Church of England.
In 1831 Maurice decided to join the Church of England, and then went to Exeter College Oxford to study to become a priest. The most significant friend he made at Oxford was William Gladstone. In 1833 he spent a week in Frenchay giving "Cottage Lectures". Maurice was ordained in 1834, and was appointed chaplain to Guy's Hospital.
In the mid-1830s he corresponded with a Quaker friend about a controversy in the Quaker community. Who the friend was isn't known, but it could well have been his friend Francis Tuckett in Frenchay. In 1838 he published the letters in a book entitled "The Kingdom of Christ - Hints to a Quaker Respecting the Principles, Constitution and Ordinances of the Catholic Church". Many scholars regard it as the greatest theological work of the 19th Century. It made Maurice's reputation, and he was elected a Professor at King's College, London.
In 1842 Daniel and Alexander Macmillan came from the Isle of Arran to work as bookseller's assistants in London. They left school when they were ten, but educated themselves by reading the books they handled. They corresponded with Maurice, and so began a friendship that had enormous significance.
In 1843 Maurice advanced the £500 needed by the Macmillans to acquire a small publishing business. Their close friendship resulted in Maurice being Godfather to the Macmillan's sons. One of those godchildren, Maurice Macmillan, named his son Maurice Harold Macmillan - he was Prime Minister from 1957 to 1963.
Maurice established a number of groundbreaking institutions. Firstly, in 1846 a night shelter for homeless people in Soho. Sadly, St. Barnabas in Soho is still operating at No.1 Greek St., and to date has helped more than 300,000 people. In 1848, with the support of Queen Victoria, he founded Queen's College, London – the first to award degrees to women. Early graduates had enormous influence; Dorothea Beale founded St. Hilda's Collage, Oxford, and Gertrude Bell, an expert on the Middle East, was the only female delegate at the Cairo Conference in 1921.
Also in 1848, with his friends Charles Kingsley and Thomas Hughes, he founded the Christian Socialist Movement. Out of this movement grew the Labour Party. Even as recently as the 1945 Labour government, before cabinet meetings there were Bible readings and prayers. Today the HQ of the Christian Socialists is in the Methodist Central Hall, Westminster.
In 1854 he founded the Working Men's College in London to offer free further education to working men and women. Lectures were given by many important figures of the day, including John Ruskin and James Clerk Maxwell. The college is still very active today, and much larger than in Maurice's time.
In 1860 the Queen appointed him incumbent of St. Peter's, Vere St., a Royal Peculiar. There was no parish to support, so he persuaded the wealthy congregation to fund a girls' home. It was renamed Maurice's Home in 1912, and finally closed in 2000, when London Council closed all orphanages.
His life-long friend Francis Tuckett died in 1868, and Francis' daughter recorded in her diary that Maurice came to Frenchay to see Francis' family.
In March 1872 the Bishop of London invited him to preach at Whitehall. When he arrived he was taken ill, and died a few days later on Easter Monday 1st April. The Dean of Westminster announced that he would be buried in Westminster Abbey, but his family said his wish was to be buried in Highgate Cemetery in the same grave as his parents and his sister. Today the Church of England commemorates him in their service book, Common Worship, which has this entry in the table of Holy Days: 1st April – Frederick Denison Maurice, Priest, Teacher of the Faith, 1872.
On the 150th anniversary of his death, in London at Lincoln's Inn (where he hadbeen chaplain) there will be a choral service in the chapel, which will be attended by representatives from Queen's College, the Working Men's College and King's College (where he had been a professor). There are also a number of fundraising events to support charities whose values would have been close to Maurice's heart. They include a bicycle ride through London during the first weekend in April passing all the main places where Maurice lived, institutions he was involved with, and ending in Highgate Cemetery where he is buried.
In Frenchay, on Friday 1 st April there will be a talk about Maurice in the Unitarian Chapel at 7.30pm. Copies of our book,' An Utterly Good Man' are available in the museum for £2. The museum is open Wed. 1-4pm, and Sat. Sun. 2-5pm