Meeting up with Frenchay's PCSOs
Perhaps you have already come across Frenchay's two Police Community Suport Officers (PCSOs) as they move around the area, but if not, please be introduced to Bianca Rotariu (seen here on the left) and Sam Norster (on the right), sometimes patrolling on foot, sometimes as here on their bikes, or otherwise keeping in touch with the local community.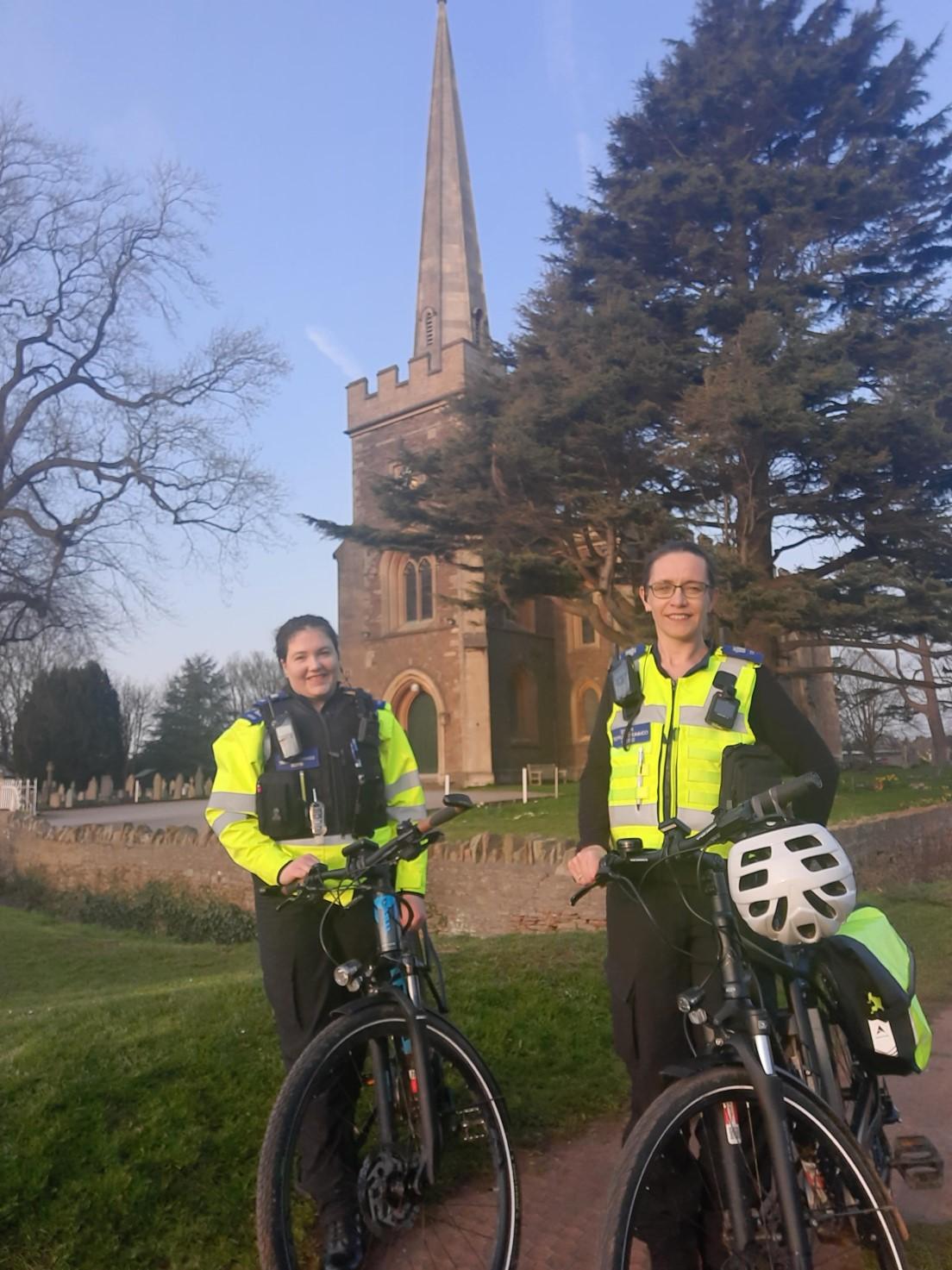 So, what exactly is a PCSO? The role was created by the Police Reform Act 2002.
They are uniformed members of Police staff and are employed to assist and support Police Officers, gathering intelligence, carrying out security patrols and, through their presence alone, reassuring the public.
They do not have a Constable's power of arrest, they cannot interview or process prisoners, and they do not get involved in the more complex and high-risk operations that Police Officers perform: but they do have a general power of a Constable to seize property, to issue Fixed Penalty Notices, and to exercise in appropriate circumstances what is commonly known as a 'citizen's arrest '.
Other powers they hold include the rights to:
require the name and address of someone they believe to have committed a Road Traffic offence and certain other offences
confiscate alcohol from persons in designated places and from under-18s
seize controlled drugs
enter and search premises to save life or prevent serious damage to property
Bianca and Sam are part of a Neighbourhood Team whose area of responsibility covers Downend, Bromley Heath, Frenchay, and Cheswick Village. Their operational base is at Staple Hill, but most of their time is spent out and about in the communities, creating a sense of 'police presence' and establishing personal connections with the general public. They liaise with schools and youth groups, and respond to many non-emergency 101 calls: but 999 and the main Police remain where proper emergency calls need to be directed.
So what advice do Bianca and Sam give? It is simple things to start with. Look after your own property. Leave your car locked. You might not think that there are many people going around testing if car doors have been locked, but they do, and they get lucky if you have been careless. There was a recent instance of a car theft in Frenchay, where the car was found in Frenchay a few weeks later with the thief still using it, as was perhaps not a very clever thing to do!
As for E-scooters, our PCSOs see both sides of the argument as to whether they are a good thing or not: but from the policing point of view, they acknowledge the difficulty they have in stopping an offender, when scooters are so easy to manoeuvre to places where it is difficult to follow.
Please always feel welcome to share useful information with the PCSOs, including at occasional 'Talk to Us' events, arranged in particular localities from time to time to help identify problems with which they might be able to help.
And one particular opportunity to speak with Bianca and Sam will be at the Frenchay Flower Show on the 9th July, when they are due to be at a Police Community Stall for much of that day.