Reporting on the 2022 Frenchay Flower Show

The sun was out, the sky so blue, and a wonderful atmosphere prevailed on a very special day for our Frenchay Community. Any concerns we had about people coming to support the show after two years of pandemic restrictions, proved totally unfounded. Long queues quickly formed at both entry gates and very soon the Common was alive with literally thousands of enthusiastic visitors! The Flower Show was back!!
The Show this year was graciously opened by four local Princesses; Their 'Highnesses,' Freya-Mai Bateman; Darcey Jefferies; Alice and Emma Lambert. A big thanks to them for a wonderful start to the Show. Ribbons were cut and Frenchay Flower Show was underway.
We were brilliantly entertained firstly, by a great new addition to our programme 'The Westerly Winds' followed by our regular favourites 'Marshfield Brass Band'. The bands played a wonderful selection of music which everyone thoroughly enjoyed – even though it was a scorcher in the sun! We so appreciate their support and thank them most sincerely.
Our thanks also go out to The Winterbourne Down Morris Men who were a huge hit, and we must not forget the delightful Starlight Cheerleaders… who all coped quite miraculously with the heat whilst thoroughly entertaining everyone.
The flower exhibits in the Marquee and the Friends Meeting House were quite beautiful and the display of home grown produce, baking and preserves must have inspired everyone to get planting, baking and stirring the pot!
There was also a wonderful exhibition of artwork, skilled crafting and photography for us to admire. All presenting a big task for the Judges. Thank you one and all. The WI, as ever, provided their legendary cream teas in the Village Hall… thank you so very much, it's a huge undertaking.
To all the Exhibitors, from the Stall holders, adorable alpacas, model railway; cars bikes and steam engines a huge 'Hats Off'. We hope to see you all again next year. Apologies to anyone I may have missed.
Biggest thanks, must go to our wonderful Committee; organisers and helpers, without whom this show could not possibly happen, and a wonderful community tradition lost.
On one final note — a massive thanks to our visitors. When everyone had packed up, collected their trophies, spent their last coins at the Auction: When stall holders left to put their feet up and you had all gone home, there was not one, not one, scrap of litter on our beautiful Frenchay Common. As they say… Respect. No Glastonbury Clear Up for us!!!
Hope to see you all in 2023.
Philip Whitby-Coles (Chairman)
Beautiful flowers to admire ….. and to buy.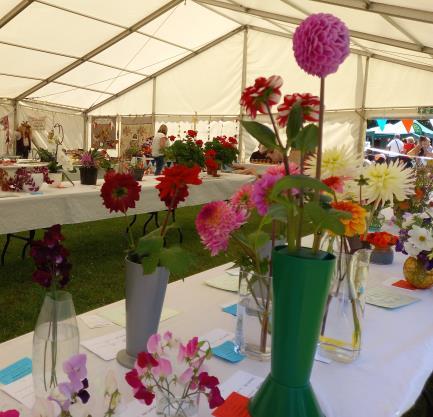 As crowds built up, orderly queues formed, exemplified by these 3 young Alpacas, eager to get in!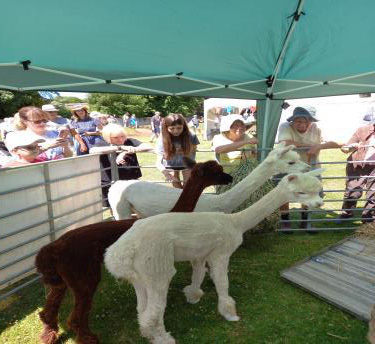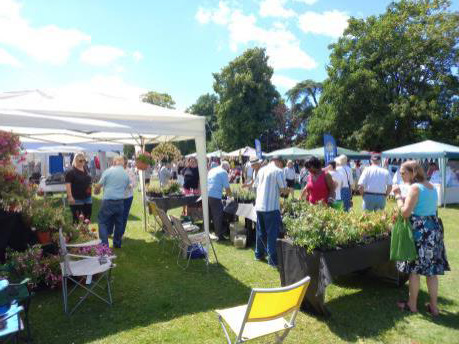 The V.I.P. car park of Classic Cars attracted many admirers.