New Housing Development under way off Malmains Drive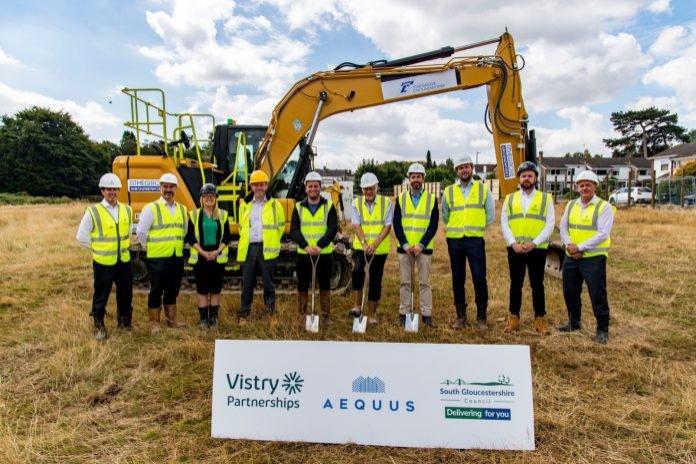 Construction work has begun on 30 climate friendly and energy efficient new family homes being built at Manor Gardens, a new development located off Malmains Drive in Frenchay, South Gloucestershire.
A turf-cutting ceremony was held at the site on Thursday 18 August featuring representatives from South Gloucestershire Council and Aequus Construction Limited to mark the start of the building work.
South Gloucestershire Council is working in partnership with Bath & North East Somerset Council's housing company Aequus.
This development is the first to be delivered in South Gloucestershire through joint working between the local authority and house builder, and is part of the council's ongoing efforts to improve local communities by delivering quality homes in a plan led approach..Thirty family homes will be built ranging from one to four bedroom properties. Eleven of the homes will be affordable, of which eight will be designated for social rent and three for shared ownership.
The entire development will meet the energy efficiency standards as set out by the Association for Environment Conscious Building (AECB). The new homes will include solar panels, air source heat pumps, extra insulation, mechanical ventilation and recovery systems and a dedicated electric vehicle charging point. These measures will reduce CO2 emissions and cut energy bills by an estimated 70 per cent in comparison to similar average properties. The development will also benefit from a central public open space, biodiverse and resilient planting and sustainable urban drainage
South Gloucestershire Council's Cabinet Member for Corporate Resources Cllr Ben Burton said:
"We are delighted that the plans for Malmains Drive are advancing, and we look forward to working with Aequus to deliver these new homes.

"I am also pleased to see a green space and a play area has been included in the plans, ensuring existing and new residents will continue to benefit from places to walk dogs, children to play and to generally enjoy the outdoors."