Downend & Frenchay Tennis Club News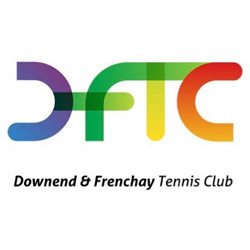 In August I signed up for Women's internal doubles competition at Downend & Frenchay Tennis Club. I was very nervous but also excited - everyone is super friendly but my constant concern is I won't be 'good enough' and will let down my partner.
Milo and Emily had organized the competition to be played on our normal women's club night, from 7pm to late. Over the last few years, as a complete beginner to both Tennis and sport, I've learnt that I most often play my best only after 1 hour of playing. It takes me, a woman in my forties, that long to 'get my eye-in!'.
So I played (and won!) a doubles match from 6pm to 7pm. The humidity + suncream + running got me very sweaty, so by 7pm I had water dripping off my face when I picked up my balls - so much so, some ladies teased me about playing a match just before starting the competition. But the win gave me a boost of confidence.
We had 18 ladies in the competition, including a teenager. Skill level was average to brilliant - what I mean by that is everyone could serve (very few double faults) and everyone could return balls. Milo got everyone into a circle and names were pulled from the hat. I'm not sure what the science was but cleverly, the mix of pairs seemed fair. The strongest players were put with less experienced/less confident players.
I was paired with Alex the teen. I'd never met her before and I don't spend time with teens. We both looked at each other nervously and politely. Took me back to being in a new school and having to make a new friend. As a tall older woman, I'm aware I can be a little intimidating, so I was more careful and polite with her, then I took charge! Offering to serve first and showing her confidence. Serve…. OUT. Serve, missed return. OMG. Embarrassed. Serve… OUT. Serve, rally, missed shot. EEK. Alex looks at me with a grin, "We're just warming up". Alex is funny and has a dry wit. She's a laugh! We're just two tennis people - age and our differences melt away. We're on the same page with tennis. She started playing the same year I did. She has great speed and talent but like me, the consistency comes and goes.
Match 1 – Alex and I were nervous. We had not met before and I had so many duff shots. Alex has a killer serve, but like me, her serves and returns had power but lacked some accuracy. But we never gave up! (We Lost 1-4)
Match 2 – Against Tracey/Emily. Emily is the best female player - in my humble opinion (sorry ladies). That partnership led them to be in the finals - so getting 2 games in that match is great. Most other teams got zero games. (We lost 2-4)
Match 3 – I was playing against my usual partner, so I was able to give Alex some inside information (!) I felt a little bad beating them, but I was super proud that Alex and I had found our way. (We WON 4-2)
Match 4 – Simone is a tennis whizz and Viv is preparing for her Hockey season. Their talent and speed was in a different league. A really meaty game. I'm sure they could read Alex and I before we even knew what we were doing. Tennis Chess! They will also be in the finals. (We lost 0-4)
Great event, great ladies, Alex and I never gave up – we gave everyone our best fight. Come and join us – all skills and abilities are welcome.
Wanda Keenan