Residents Association Report No. 97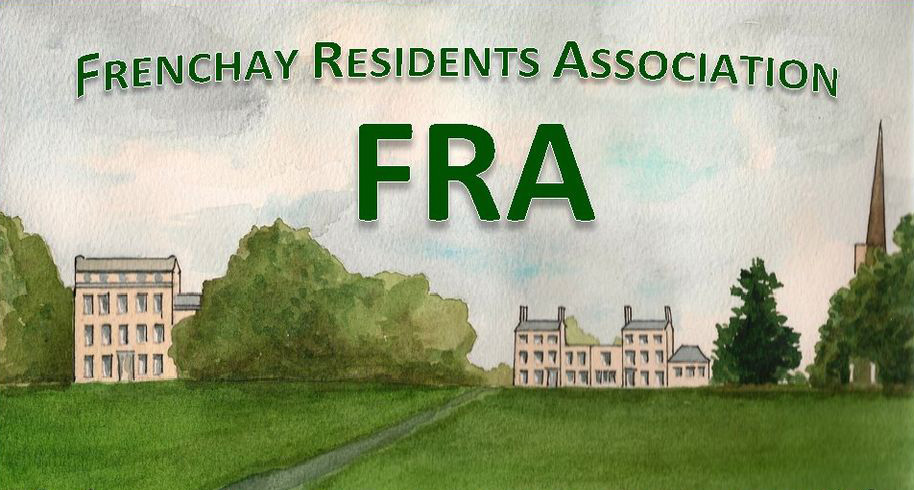 Dear Friends and Neighbours,
Thank you to those who attended our FRA Open Evening on the 22nd of November, so nice to meet everyone who attended to find out what is going on in Frenchay. After almost three years of Covid restrictions it was lovely to be able to gather and mingle at the wonderful new school, we are very grateful to Frenchay Primary School for hosting us.
Christmas Carols on the Common
These will take place on Monday 19th December starting at 6.30 pm, using the same format as last year with us all gathering on the common opposite the Parish Church.
We will aim to provide some festive refreshments to keep us all warm and hope that you can join us.
A bucket collection will be made so that contributions can be provided to the Silver band and Choir to cover their expenses and assist them with training young people. Any amount over that will be used towards some of the equipment costs, like permanent banners, which are now needed for use with the event every year.
We look forward to seeing you all for this very enjoyable festive gathering.
FRA Biodiversity Projects
With a deliberate emphasis on outdoor work to enable us to continue activity without restrictions, you will recall the DofE work that FRA has initiated with Ammaarah Vohra being our very first student. Ammaarah is now completing her DofE Gold and this is her poignant and heartfelt poem inspired by her awareness of our climate emergency:
I met a salt cedar tree down by the sea; It was a cheerful stately green
I sat with it and shared my troubles many times, caressing its rough, wise trunk,
To its rustling branches I would trust all the things I couldn't tell.
In turn, my salt cedar told me of stories from the past,
'Did you know that once upon a time, every bird sang? It was they who gave us words.
Their songs watered the fields and filled flowers with poetry'. I learnt and I listened.
Before my return to the city, we embraced, bid farewell 'Till next summer', we said.
The next summer I returned to an emptiness I couldn't place.
Until I saw my salt cedar tree split down the middle.
The salt cedar didn't want me to see it, to let me touch the spots bared of branches,
Its hollowed trunk filled with leaves Roots upturned,
Rendered limp and lifeless and its beautiful upper boughs now disconsolate yellow limbs.
My salt cedar told a new story;
For the birds had ceased to sing when their beaks filled with smoke.
Then no more did the trees dance, nor the stones speak and the streams lost their sweetness.
Then the salt cedar and I were left alone. We had not water to quench our thirst nor shelter to keep us warm,
We could not see each other in the dark; we trembled in the cold.
Only the crescent moon illumined the nothingness.
I could not bear it any more, I cried in one voice: 'Oh!'
Then there was a blinding brightness. And the birds came back.
They saw my salt cedar tree; they mourned its loss,
They beat their half-burnt wings and they sang with their choked throats,
In the few words that still remained,
A song about the colours and the tongues that had vanished from the earth.

Ammaarah Vohra
Frenchay Festive Window Trail
After the success of last year's Festive window trail and back by popular demand, we would like to run it again this Christmas.
It bought so much pleasure last year to young and old alike.
Any address receiving our Frenchay Community News is welcome to join the trail and your window can be decorated in any way that you like. This could be using stickers, glass paint, card and tissue paper, silhouettes, lights, 3D designs, drawings or paintings. The options are endless, but the main thing is to have fun creating it and for people to enjoy seeing all the wonderful window displays Frenchay can produce. There are lots of ideas online if you search Christmas window trails.
If you would like to take part you need to email: frenchaychristmaswindowtrail@yahoo.com to register your property by the 9th December. You will then receive a message /email letting you know the number that you will be on the trail map. You will need to include this number in your display so people know which house on the trail they are viewing.
We will light up our windows from the 19th–23nd December between 4-8pm allowing people to follow the trail map and take part. Trail maps will be made available in various locations including a download on our FRA Facebook page, and links sent out in an email to everyone on our circulation list. We might even establish a vote for favourites and prizes if enough properties want to take part.
So let us get into the festive spirit and add to the magic of Christmas in Frenchay this year!
We wish everyone an enjoyable festive time with good health and happiness for 2023.
Thank you all for your engagement and continuing support in Frenchay's best interests this year.
Adrian Collins (Chair - FRA)