Downend & Frenchay Tennis Club News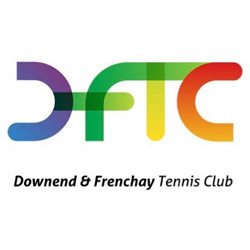 I first started playing tennis at around age 11 at Knowle Tennis Club conveniently located next to the cricket ground where a lot of young lads just happened to be learning to play cricket! Little did I know that nearly 50 years on I would be playing again within a stones throw of a cricket club, this time Frenchay.
I haven't actually been playing during all those 50 years but once your have learnt to hit a ball and the rules of the game then you are set for life and can pick it up again any time. I can't actually remember when I returned to tennis but it quickly became a Wednesday evening activity for me. This then grew into Friday and Tuesday mornings along with many ad hoc games during the week. The ladies membership has grown considerably since I took it up again and I have made many, many lovely friends. We play in wind and rain and weather conditions can make it tricky but its always fun.
About four years ago I was asked if I would like to become more involved in the running of the tennis club and join the committee. I was duly voted on at the AGM and became secretary jointing six other ladies working together to make sure that club ran smoothly. The membership has grown and continues to grow offering a wide variety of coaching for both children and adults, at all levels.
Being on the committee has given me an insight into the running of the club which has recently become a registered Charitable Incorporated Organisation. All the committee are members and volunteers working for the members of the club and to make tennis available to all in the community.
The committee meets seven times a year and, as the club is open on all 365 days, there is always something to discuss which includes coaching programmes, finances, health and safety, maintenance of the courts, social events. and many more items that are part of ensuring the club is not just maintained but also continues to be improved for the membership. The role of the secretary is to organise the meetings, provide the agenda, taking the minutes and typing them up as well as, of course, joining in discussions and decision making.
The last few years have been challenging for the club with COVID but when some restrictions were eased it was one of the few activities people could do as it was outdoors which saw an increase in interest in tennis and demand for court time. I throughly enjoy both playing tennis and the social side of it; we are a lovely bunch of people so if you have ever thought about having a go at tennis give it a try; I guarantee there is something for everyone.
Sue Sheath