Frenchay and Hambrook Horticultural Society News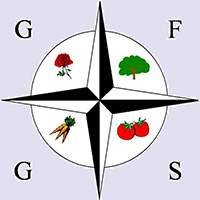 Our next meeting will take place at the Friends Meeting House at 7.30pm on Wednesday 4th January, when we are looking forward to hearing a talk by Dave Usher, head gardener at Hestercombe Gardens near Taunton between 1986 and 2004. The gardens have been under restoration in various stages over the past 50 years and David will lead us through some key stages that brought these varied and beautiful gardens back to life.
Wednesday 7th December was very cold so we were a select gathering at the Friends Meeting House for the Horticultural Society Christmas meeting. Seven members brought table decorations and, following a secret ballot, Janet Nicholson's creative entry narrowly triumphed. Members then got together in small groups to attempt the Gardening Quiz while enjoying sausage rolls, Spanish tortilla, mince pies and non-alcoholic punch. There was a slight anti-climax when Miriam discovered that she had omitted to bring the answers to the questions but Tony stepped into the breach by looking up any of the disputed answers using his phone and the omniscient 'Google'. Cups of tea and coffee and a raffle brought a very enjoyable evening to a close.
Miriam Young