Just Run: Festive Fundraising with Friends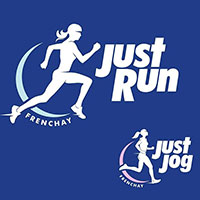 Although our club is all about running and encouraging people to do more exercise, we also place huge value in bringing people together. We regularly have new members who have just moved to the area and want to meet local people and integrate into the community, and we have countless stories of members making new friends; lots bring their friends along as a way of spending time together and doing something meaningful.
Being volunteer -led, time can be stretched, as our team kindly donate some of their free time to enable the sessions to take place safely and in a way that ensures people feel supported. This does not leave much time for organising social events. We do try though as we know that members and those who may be interested in coming to the club enjoy having time to come together in a convivial social setting.
We recently organised a clothes swap (for anyone who has not come across a clothes swap before, it's an event where everybody brings a set amount of clothing and/or accessories in good condition that they no longer wear, and place them on rails, once everyone has arrived, everyone can dive in and find themselves 'new' things to wear). Our last event, which we held at the Crafty Egg Café in Fishponds, was a huge success and everyone went home with full bags to refresh their wardrobes. There was also time to have a drink and catch up and £150 was raised for charity.
Our next event is wreath making, which is an annual favourite. Again, we use this as an excuse to get together and fundraise for charity. Our wreaths are eco of course! Although spaces are limited we welcome the local community to join in. We also sell wreath making kits so that even if sessions become full, families, or groups of friends can get together and create their Christmas wreaths!
If you would like a kit please contact info@justrun.uk and here are the instructions we provide with our wreath making kits so you can have a go yourself.